TOP
2018 Big Head Red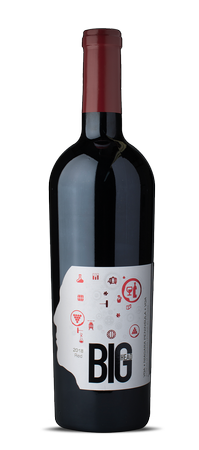 Wine Specs
Appellation
Niagara Peninsula
Appellation: Niagara Peninsula
A.B.V: 14.3%
R.S.: <3 g/l
T.A.: 5.6 g/l
Source/Blend:
43% Cabernet Franc (Fresh)
30% Merlot (Ripasso)
20% Cabernet Sauvignon (Appassimento)
7% Syrah (Fresh)
Winemaker's Notes: The Cabernet Franc was near perfect, so we left it fresh; we didn't feel the need to dry. The Syrah needed a lot of attention and passed through 2 sorting tables and then finished fresh as well. The Merlot was done in the ripasso method (dried skins re-used from an appassimento wine) while the Cabernet Sauvignon was fan dried. After a month of drying we put whole-clusters of the Cabernet Sauvignon with CO2 into stainless tanks for 10 days and pumped over for 7 days. Maturation was 16 months in 225L French oak barrels for the Bordeaux varieties and the Syrah was aged in 1000L French oak.
Sommelier's Notes: The addition of full appassimento in the blend makes this the fullest Big Red so far. The nose is ripe, confectionary, and spicy. Black and red berries in strawberry Jell-O, cardamom, vanilla and hot cinnamon spill out of the glass. The palate is dry, but with a pleasant ripeness layered with buttery caramel tones from the oak that will stay with you. The addition of the Syrah adds a savory touch to the finish.
Spec Sheet: – Download PDF –
Wine Specs
Appellation
Niagara Peninsula
Product Reviews
Dale
(Oct 9, 2021 at 3:44 PM)
Surprisingly good for the low price.
Ana
(Oct 26, 2021 at 5:36 PM)
Amazing wine that should be given a try - you won't be disappointed!